Hampshire, IL – July 29, 2015 – Canterbury Farm just completed three weeks competing at the Great Lakes Equestrian Festival at Flintfields Horse Park in Traverse City, MI. The team had great results across the board, with riders from short stirrup up to the grand prix level bringing home top ribbons. Owned by the Franklin Family, and operated by head trainer Greg Franklin and trainer and rider Caitlyn Shiels, Canterbury Farm is a hunter/jumper training facility based in Hampshire, IL.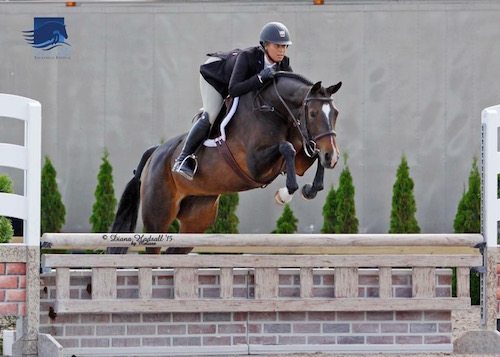 Canterbury Farm began competing during the second week of the four-week festival and kicked things off with fantastic results, including three reserve championships. Caitlyn Shiels was reserve champion in the 1.35m jumper division with her young horse, Cavalier II. Vocarday, who is for sale and currently owned by Sherree Holliday, was reserve champion in the Great Lakes Open Hunter 2'9" ridden by Shiels, and Maddie Pogorzelski was reserve champion in the Low Children's Equitation aboard Marcia Franklin's Cydelle.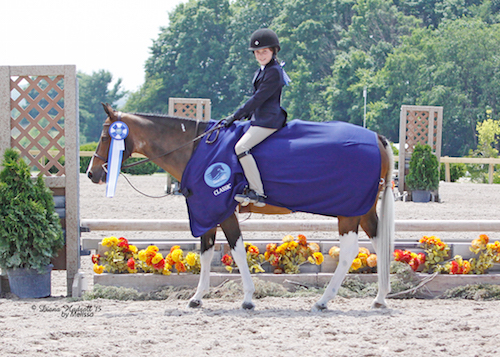 Greg Franklin's neice, Molly Zygmont, also jumped to a win in the Children's Pony Hunter Classic riding her pony, Pumpkin Pie, in their first week in Traverse City. Serafina, owned by Michelle Durpetti, made her debut in the USHJA National Hunter Derby to conclude the week with Shiels in the irons and finished 12th.
During week three of the festival, Molly Zygmont and Pumpkin Pie won the Children's Pony Hunter Classic for the second week in a row. Natalie Alden's King of Hearts was reserve champion in the Pre-Green 3'3" division and placed second in the USHJA Pre-Green Incentive Challenge as he prepares for the Pre-Green Incentive Championships coming up in August.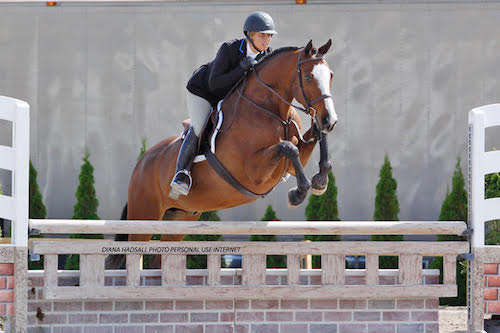 Timeless and Lesley Quillen won the Handy in the 3'3″ Amateur-Owner Hunters, and Balida, owned by Katherine Heywood, placed third in the USHJA National Hunter Derby. Shiels and Cavalier II also competed in the $25,000 Welcome Stake and the $50,000 Grand Prix after just stepping up to the grand prix level a few weeks ago.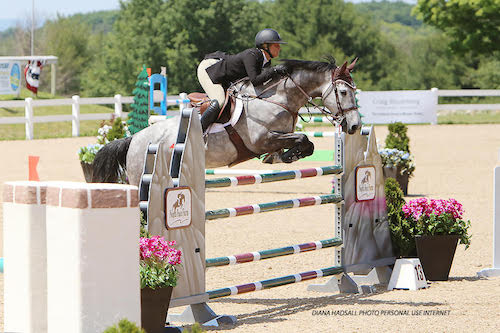 The success continued into the final week of competition in Traverse City. Katherine Heywood and Balida won their first class in the Amateur-Owner Hunter 3'3" 18-35 division with a victory in the handy round. Michelle Durpetti also jumped to great results with her horse, Frisco, finishing second and third in the Adult Amateur Hunter 18-35.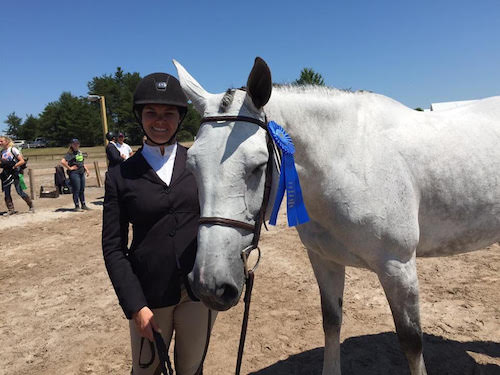 All of the horses and riders of Canterbury Farm had a great time competing in Traverse City and look forward to competing this week at the Lamplight Equestrian Center in Wayne, IL, for Equifest.
Canterbury Farm maintains a horse show schedule on a local, regional and national level that is created with their customer's competitive goals in mind. For over 35 years, Greg Franklin has ridden hunters and jumpers to numerous championships nationally and has brought home many Zone 5 Horse of the Year awards. Franklin has qualified horses and riders for the Pennsylvania National, Washington International and the National Horse Shows including the Medal and Maclay Finals. He has also shown internationally at Spruce Meadows in the 1.40 and 1.45 divisions and is a certified trainer with USHJA. Additionally, Franklin has his 'R' in Hunters, Hunter Seat Equitation, and Jumpers and judges throughout the country.
Born and raised in Sheffield, Massachusetts, Caitlyn Shiels began riding at the age of 8. A highlight of Caitlyn's career as an emerging talent includes being a double gold medalist in both the team and individual NAYRC In 2004. After achieving this success, Caitlyn apprenticed under such professionals as Andre Dignelli, Mclain Ward, Ken Smith and Kate Stoffel-Oliver to name a few. She joined the Canterbury team in 2013, almost immediately after becoming a part of the team, Caitlyn and Greg began enjoying great success with multiple championships at major shows including Spring Spectacular, Horse Shows by the Bay, Traders Point Charity Horse Show, and Kentucky. Their partnership is an excellent balance of training both on the horse and from the ground.
With qualified trainers, attention to detail, and a caring staff, Canterbury Farm is committed to excellence in horsemanship, and to giving all of their riders a great experience in the show ring.
Thank you to sponsors Tucci, Samshield, Butet, O'Shaughnessy Apparel, Blueberry Hill, Ardie Hastey, and Equifit.
For more information, visit www.canterburyfarmchicago.com or email info@canterburyfarmchicago.com.